Welcome!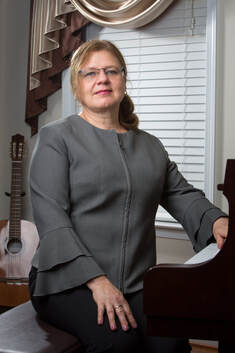 I am
Jenny Anderson
, founder of the Virtuoso Music School. I invite you on a fun and fast-paced journey to being a better piano player by following my unique European piano instruction method.
I have successfully taught over a hundred students aged 4 years old to adult, from complete beginners to advanced level students.
​
Check out my students in the "Student Performance" section, or on my YouTube channel
​
My Mission:
I am dedicated to teaching and guiding each student in order to master their musical ambitions, in understanding music theory and building their technique and performance skills. Within each student I see a rising star.
My Vision:
To unveil the gift of music in our students.

​
My concept of teaching and learning:
I believe that anyone can learn playing piano, regardless of age or the innate abilities they possess.
My goal: F
or each student to be able to just open a music book and play any piece of music they wish, without assistance and regardless of what educational or career path the student seeks.
About me:
I am a
National Certified Teacher of Music in Piano by Music Teachers National Association (NCTM) and Certified Music Teacher by The American College of Musicians
.
I am an active member of The National Guild of Musicians, MTNA (Music Teachers National Association), including WVMTA, FCMTA, and an affiliate of Royal Conservatory Music Teaching System. I possess an extensive European music educational and teaching background, specializing in all phases and levels of piano, and accordion instructions. I have been teaching students from WV, VA and MD since 2004. Prior to this, I have taught for many years in Europe. Several of my students received a "top- talent" rating in the Guild Adjudication multiple times, many completing the National and International Programs. I have developed a unique and special approach for working with very young students, and enjoy working with even the youngest students.
My instruction covers:
Music reading
Music theory
Ear training (including rhythmic and melodic dictations)
Technique (Russian pattern /Piano Olympics)
Piano repertoire (all styles)
Performance skills
Ensemble work
Accompaniment
Composition and lyric poem creation
Examination's/Competitions preparation
If you are interested in piano lessons, please reach out to me at 301-693-9220
or e-mail us at
virtuosomusicschool@hotmail.com
.
I am looking forward to helping you to Express Yourself in Music Excellence!
---